Car Dealer Management Systems & Software
Easy to use tools, connected with accurate data sources, designed to simplify your dealership management.
Integrated Taxonomy
Extensive taxonomy for cars, motorbikes, vans, trucks, plant, caravans, farm & motorhomes, select manually or retrieve vehicle data by VRM or VIN. Our vehicle form is designed for efficiency, simply enter a VRM, enter the vehicle mileage, VAT status and price - then it's ready to publish.
Automatic Factory Fit Detection
Automatically selected optional extras save you time and help ensure accuracy. Currently available for selected manufacturers, with manual selection available for most modern vehicles.
Integrated Valuations & Metrics
When available vehicle valuations and sales metrics are provided automatically helping you to quickly price your vehicles competitively.
Automatic Vehicle Descriptions
Powered by AI, MotorDesk can automatically generate engaging and informative vehicle descriptions in seconds.
Vehicle Checks
Automatic background checks flag any warnings automatically, optionally retrieve a full background check to dive deeper into a vehicle's history.
Analyse Prospective Purchases
Analyse up to 1000 vehicles simultaneously to retrieve valuations, sales metrics, estimated profit and return on investment, and much more. Filter and organise results to identify the best prospective purchases in seconds.
Photo Editing & Branding
Upload vehicle photography quickly and easily, with automatic photo branding, watermark and background removal features. Customise further with our powerful in-built photo editor and photo ribbon/banner tools. Upload videos directly & connect with YouTube.
Bulk Stock Editing
Edit and manage multiple vehicles simultaneously with inline editing, powerful search tools, and customisable columns. Manage all your advert placements and update your vehicle prices from a single screen.
Automatic Stock Book
Utilise the automatic stock book to ensure you are always up-to-date with your legal requirements.
Condition Reports
Maintain and organise your vehicle condition reports with ease. Mark points of damage with attached photos, videos and notes, using a choice of exterior splat diagram, and interior splat diagram.
Statistics & Performance
Monitor your advert performance with integrated website and AutoTrader search and lead statistics.
Vehicle Locations
Keep track of your vehicles with pre-defined vehicle locations and GPS location detection to automatically record where your vehicles are.
Compare Competitors
Search competitor AutoTrader advertisements to easily identify where your vehicles are positioned in the market nationally and locally.
Silent Salesman & Performance
Easily generate silent salesman sheets for your vehicles, and track the website visits they generate via short links and QR codes.
Test Drives
Collect customer test drive information and maintain an accurate log of exactly who was driving each vehicle and at what time.
Image Templates
Create eye-catching templates to quickly add call-to-action images and representative finance examples to your photo gallaries.
Vehicle Preparation Workflows
Create reusable workflow templates to organise your vehicle preparation processes, with instant notifications and third-party supplier access.
Marketplace Integration
Add your stock once, then publish to your website, AutoTrader, eBay Motors Group, eBay Auction, CarGurus.co.uk, AA Cars, Facebook Shop, Instagram Shop, Dealer Auction and more, all at once! Need another marketplace? We're ready to rapidly create new stock feeds for other marketplaces!
AutoTrader Connect Integration
No more waiting for feeds, our comprehensive AutoTrader Connect integration allows you to publish new stock and changes to AutoTrader instantly!
Omni-Channel Communication
No more switching between chat software and online portals! Manage your online chats, website enquiries, emails, SMS, WhatsApp, Telegram, Instagram, Facebook Messenger, LINE, Google My Business & AutoTrader Leads all from a single system.
Live Chat Included
No more paying for extras, our website live chat is included with all our membership plans without limits, and at no additional cost.
Build Customer Relationships
Automatically link customer profiles & transactions, or create new customer profiles in seconds.
Appointments & Notes
Easily manage your customer appointments, and maintain notes so you don't forget important customer details.
Vehicles of Interest
Automatically link vehicles of interest and quickly identify and suggest recommended vehicles, share vehicle information and brochures at the click of a button.
Create Offers & Proposals
Quickly and easily create personalised offers and proposals, and share them via any communication channel. Seamlessly move from enquiry to sale with ease.
VOIP Integration
Connect your RingCentral VOIP phones to create leads automatically whenever the phone rings. Access your call logs and recordings alongside your leads and customer records
Email Hosting
Reliable & secure email hosting is included with all our plans so you don't need to maintain any third-party email services. Connect your computers, tablets and phones with ease, or use webmail.
Offers & Invoices
Our powerful invoicing system simplifies the sales process for you and allows you to convert offers/proposals to sales at the click of a button.
VAT & Margin Scheme
Easily create VAT and margin-scheme invoices without complexity, and issue credit notes with ease.
Online Payments & Reservations
Collect payments and vehicle reservations online, and accept traditional offline payments.
Share Invoices
Share online invoices with ease and utilise QR codes to speed up the sales process in your showroom.
Electronic Signatures
Our invoice eSign and delivery eSign features help you eliminate fraud.
Custom Products
Manage your products to create consistent invoices faster, with full VAT rate and product options support.
Organise Finance Documentation
Easily organise your customer finance documentation, and quickly share it with customers.
Sale Reports & Analysis
Analyse your sales performance in detail, identifying which vehicles, manufacturers, models, sales channels, and staff performed best.
Automated Follow-Ups
Create automated email and SMS messages to be sent to your customers.
Accounting Integration
Automatically synchronise with Sage Accounting, Intuit QuickBooks or Xero Accounting software.
Responsive & SEO Optimised Websites
Our SEO optimised websites automatically adapt to support all devices, so customers can visit your website using their mobile, tablet and desktop computer.
Powerful Website Editor
Add and edit content with ease using our revolutionary website editor, using any web-enabled device - even your mobile phone.
Vehicle Search
Allow your visitors to search your vehicle stock with simple search forms, with comprehensive search options and filters.
Compare and Favourite
Help your visitors identify the perfect vehicle with straightforward vehicle comparisons and favourite vehicle features.
Share Offers/Invoices, and Accept Payments
Easily share offers/proposals and invoices with customers, collect electronic signatures, and accept payments via your website.
Accept Reservations
Accept online vehicle reservations with instant notifications to keep you informed.
Module Based
Easily add content, photos, maps, testimonials, reviews - even vehicle valuation, part exchange & contact forms in seconds with our powerful module-based websites.
Fully Customisable
Quickly edit every aspect of your website design, with comprehensive personal support on hand to provide customisation when needed.
Website Statistics
Understand your website visitors and traffic with integrated website statistics, helping you track exactly how your customers are using your website and which vehicles are most popular.
Stock Photo Library
Over 300 high-quality automotive photographs, categorised and organised for quick and easy searching.
Free Domain Name & SSL
Use your existing domain name, or take advantage of a free domain name and free SSL certificate for customer reassurance and improved SEO.
UK-Based High-Availability Cloud Hosting
We utilise high-availability UK-based cloud hosting to ensure your website stays online, even if we need to perform server maintenance!
Social Networks
Automatically post your vehicles to Facebook, Instagram, Google My Business, Twitter, LinkedIn, TikTok and YouTube.
Customisable Templates
Create posts that match your branding, automatically adapted to suit each social network's requirements.
Photos & Videos
Post vehicle photos, and automatically post vehicle videos to TikTok and YouTube.
Your Schedule
Choose when you post, how often you post, and how often you re-post.
Auto-Hashtag
Enable vehicle-based hashtags to optimise your posts, and attract more views and engagement.
Task Designer
Organise your processes into simple tasks.
Instructions
Simplify how you exchange instructions with your team members and external suppliers
Notifications
Notify team members and external third-party suppliers when tasks begin and complete.
Collect Data
Collect notes, files, condition reports and electronic signatures.
Third-Party Access
Allow external suppliers to view their tasks through your own website.
Nothing to Download
MotorDesk is a web application, there's nothing to download or install, and the software works on all modern mobiles, tablets and desktop computers.
Staff Accounts
Create staff accounts with varying roles & privileges, allowing you to control what aspects of your business each member of staff can manage.
Migrate Easily
Let us set up your website branding and design, and import your existing stock from AutoTrader & other systems.
Stay Informed
Comprehensive notifications keep you updated whenever anything happens.
Actively Maintained
We are actively developing the MotorDesk platform with new functionality meaning you and your website will receive new features routinely.
Personal Support
Telephone and live chat support is ready to help you whenever you need assistance.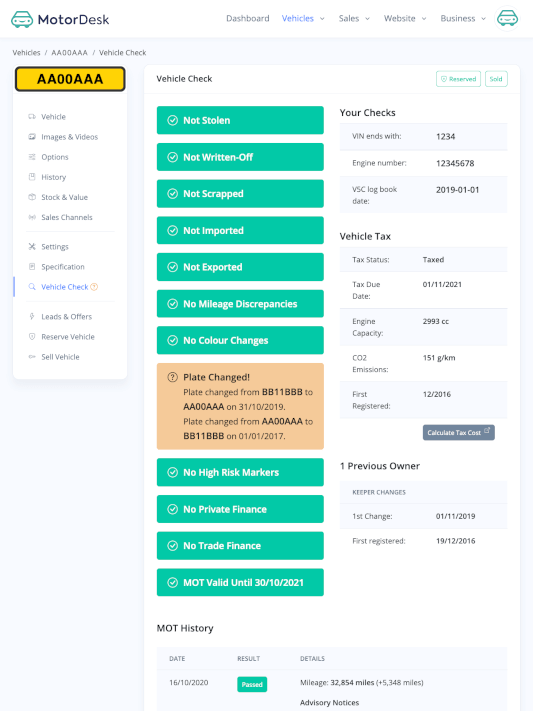 Watch a Demo
Watch a demonstration of the MotorDesk platform in action to answer any questions you may have.
Watch Demo